I am so excited to share with you my favorite classroom must haves!! These are the things I just adore and think every teacher should consider having in their own classrooms! 🙂 I'd love to hear from you in the comments with what your favorites are in your own classroom as well!
I provided the links for you to see them directly on Amazon if you want to check them out – some links are affiliate links which means I get commission if you buy from the links, it's no extra cost for you but I just wanted to let you know! Click on any of the images to take you to it on Amazon. 🙂
So I thought that every teacher in the world had one of these… until I found out some people had never heard of them!
A wall staple remover is your best friend for bulletin boards. Plus, this one is pink. 🙂 You simply slip the metal part at the front under a staple in the wall or corkboard or whatever it is in and pull out and it pops the staple out. I saw a teacher using one of those standard claw type staple removers to get staples out of her bulletin board once, shredding the corners of student work in the process, and I almost fell over. Get a wall staple remover if you don't have one already!
Speaking of bulletin boards, sometimes storing the materials for them can be a pain.
For letters, I recommend sorting them by letter with an expanding file folder like this. Have a pocket for each letter (pocket for all your As, pocket for all your Bs, etc.) or A-B or A-C if it doesn't have 26 pouches. It makes it SO much easier and quicker to spell out words for your bulletin boards when you can find letters quickly.
This expanding file has 13 pockets so you can have one for every 2 letters. Use the labels to label the pockets A-B, C-D, E-F, etc. You can put different styles of letters in them – it'll still be quick to go through… much quicker than storing all your black letters together, all your blue letters together, etc.
Storing borders can also be difficult since they're so long and awkward and you definitely don't want to fold them. I don't like rolling them up either.
I found this border storage pocket chart amazing invention at a teacher store and LOVE it.

You can put your border in there so they stay nice and straight and then fold it all up so it takes up hardly any room. I put mine in between my filing cabinet and desk and have no idea it's even there until I need it.
Speaking of pocket charts, you need a MAGNETIC pocket chart. I can't believe I ever had ones that weren't magnetic and struggled with clip magnets and all sorts of things to put them on the board.

This one is amazing. You can take it from your pocket chart center to the whiteboard in seconds – it's magnetic so you just set it on your whiteboard and voila! It's so nice to be able to take it around for multiple uses. I also showed this in my Reading Must Haves list because I just love it that much.
For displaying content, I also love making anchor charts. These chart tablets are great for that. This one is lined (1 1/2 inch ruled) but you can get them blank too. I like having the lines as a guide personally.

I also like having these smaller landscape chart tablets to put on a small easel for small groups.
Okay, so I know you know this already because it's like a teacher staple but you need Mr. Sketch markers for making anchor charts. Love, love my Mr. Sketch!

Kids love the scents and will fondly refer to them as smelly markers. 🙂
Other markers you need are Expo Dry Erase Markers, of course! I love that they are low odor and have a lot of colors. I always buy Expo.

Kids LOVE using your dry erase markers so you'll go through them pretty quickly.
My favorite thing to use dry erase markers with to save a lot of money on ink and paper is with heavy duty sheet protectors. Make sure you get heavy duty ones like this so they're durable and not so flimsy. You want durable because kids can be vigorous when it comes to wiping them clean. Just slide worksheets or anything a student would write on into them, have them use a dry erase marker, then they wipe when they're all done so you can reuse the sheet again and again. It's perfect to use for recording sheets in centers or simple things you really don't need to collect/grade. 🙂

If you want to get fancy, these Neon Colors Dry Erase Pockets also work great for that and come in really cute colors!
Speaking of cute colors, I love love love my rainbow drawers organizer cart. I actually have a few of them and use them all the time.

They are great for storing math centers, literacy centers, organizing papers, really anything! They're just so pretty. If I could insert a smiley face with heart eyes, I would. 🙂
I use one of my rainbow drawers carts for storing my Astrobrights Color Paper which I use a ton of! I love printing things in black and white on bright colored paper so it looks fun and engaging without wasting my color ink.

I love Astrobrights because it's bright and beautiful and comes in so many different vibrant colors! I buy them in huge multipacks like this where there are 100 each of 5 colors for 500 sheets total. That can make a ton of activities!
If you're going to take the time to print on precious color paper, you want to laminate it! Your school may already have a laminator but the big lounge style ones I've used have been much thinner laminate (and I've even had them peel before, gasp!!) and you have to wait your turn or wait forever for it to warm up OR wait for the laminator police to do it for you if your school is strict with it. I totally love having my own personal laminator. It warms up quickly and everything is super thick and high quality so it just feels so durable and legit. 🙂

You can also get the laminating pouches on Amazon. I always get these Scotch ones and love the quality.

Okay so you've laminated them – now you need to cut them out! Do not drag them all the way back to school to use the super dull paper cutter – get your own! They're not expensive for how much you'll use them, in my opinion, and it's so nice to have one at home so you can do it at your leisure and maybe even get family to help.
My husband has helped cut out so much lamination that he says his thumb goes numb (eek! lol) and his mom always used this awesome rotary cutter for her sewing projects. It rolls like a pizza cutter. Well, turns out it works awesome for cutting out centers in a super precise way that doesn't hurt your hand, so now he helps me again. 🙂
If you get the rotary cutter, you'll also want the self-healing double-sided mat to put the paper on top of so it doesn't harm what you're cutting on top of.

On the topic of cutting things out – kid scissors!
There are a lot of things I recommend getting cheap. Kid scissors are NOT one of them. I highly recommend the 5 inch blunt tip scissors by Fiskars.
Seriously though. Don't skimp, it's all about Fiskars. You can find them on sale during back to school but I definitely recommend sticking with that brand.
Another name brand I always buy is Flair pens. What teacher doesn't love Flair pens?! They're simply awesome.

I love the colors and they write so beautifully. I also buy boxes of just black Flair pens because I use them to write pretty much everything.

For pencils, I think Ticonderoga pencils are the best and these ones are PRE-SHARPENED.
Yes, pre-sharpened. Real talk: I hate sharpening pencils. These come already sharpened and then whatever kid is your pencil sharpener can do the rest 🙂 Choose a gentle, responsible kid as your pencil sharpener when choosing classroom jobs so your pencils last! Did you check out my GIANT list of classroom jobs? I have jobs for every kiddo!

I've had this same pencil sharpener for years. Everyone has their favorites… this one is mine! Like I said, just make sure you teach how to responsibly use the pencil sharpener and it's an assigned job so they feel a responsibility to be gentle because if it breaks, you know exactly who did it. 🙂
Okay so I didn't realize how many teacher tools I love. I hope you enjoyed this list and found some new goodies!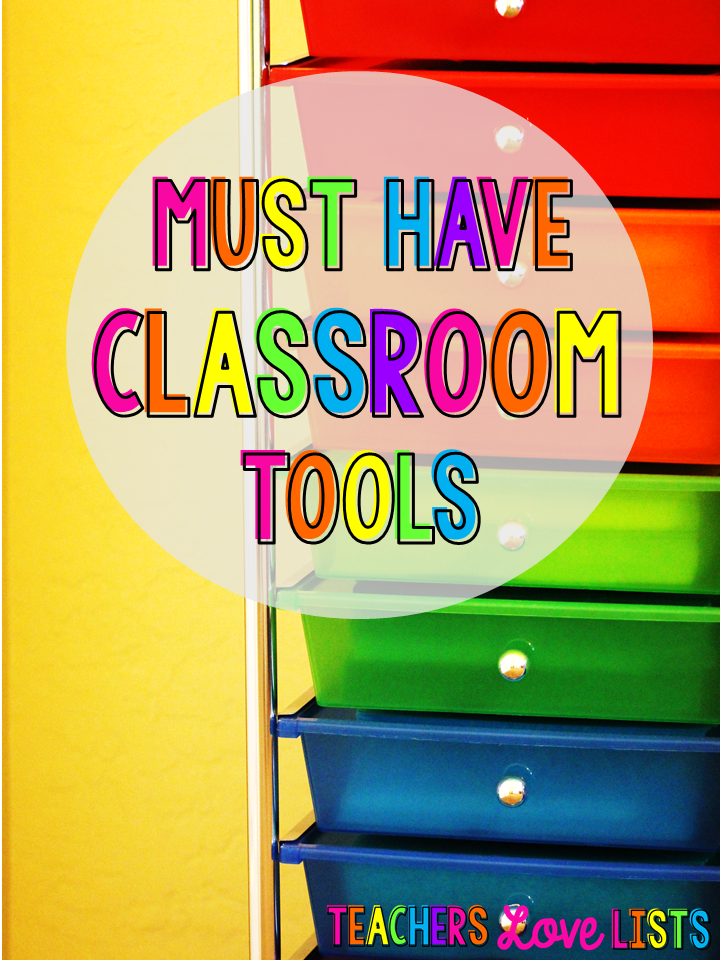 I have so many more things to share! Check out these other lists of things I love:
Best Back to School Read Alouds (and I have a ton of other book lists – use the drop down boxes at the top of this page to find them!)
Best Books by Behavior (great for the first few weeks of school)
Flexible Seating Classroom Ideas and Seating Options
I'd love to hear from you in the comments! Do you love these too? What are your classroom must haves?? Feel free to share this using the buttons below!