Superhero classroom decor is so much fun! there are so many cute superhero classroom theme items out there to make your room POP! POW! ZOOM!
I've compiled a big list of my favorite decor ideas to help you decorate. Some of these links are affiliate links which means I make commission from purchases made through the links that I use to upkeep my blog and bring you fun ideas! 🙂
Your students will be so excited to walk into such a fun themed classroom and one way to get them even more excited is to tell them how they are superheroes and give them these super cute pencils and erasers to use on the first day!
This is a great intro on the first day to explain your behavior or expectations, procedures, and routines including classroom jobs. How cute is this classroom jobs chart?!
If you have a helper of the day, I love the idea of having a cape they can wear all day as your special superhero helper. This cape is a cute cape for children.
You could also have capes ready that kids get to wear if they reach the top of the behavior chart – now that's motivation! This pack has a clip chart you could use.
This How to be a Superhero poster is a cute reminder for how you want them to behave.
Kids love getting handwritten notes from their teachers so I love to have little thank you cards to write a quick little note to kids who get to the top of the chart or were especially sweet that day. They'll LOVE it and can take it home to show their parents.
Even just a little Superhero Sticky Note that says something kind can have your theme… and boy this set is cute!
If you do an Incentive Chart for your students, this one is super fun.
There are also these Incentive Charts for each individual student too if you do that. I love using these for reading goals!
Here are Superhero Mini Stickers to use with the charts.
I LOVE Stickers. This Superhero Sticker Roll of 100 stickers is great for putting on graded work or as a treasure chest item they can choose.
If you don't have a treasure box already, here's a Superhero Chest to perfectly match your theme!
If you want even more superhero storage, this storage box is cute.
 Here's another storage bin option!
I think my favorite decor item on this list are these Superhero Paper Lanterns if you're allowed to hang things from  your ceiling.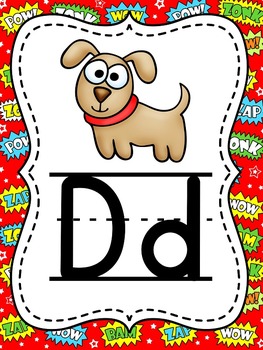 My other favorite is this set of Superhero Alphabet and Phonics Posters that has all the letters and phonics sounds in 11 different superhero themed backgrounds including this one so you can decorate with whichever you want or even mix and match.
Here's a pretty much pre-made word wall where you can just write in your curriculum's sight words and kids' names. I recommend laminating them first before you write the words on so you can change them later in case you change grades, sight word lists, etc.
Here's a cute number set for 0 – 31 but I especially love the number poster it comes with for practicing a new number in a bunch of different ways during calendar time.
Speaking of calendar, I love this Superhero Calendar Set.
Please note that the numbers and months are sold separately.
This pointer is awesome for pointing during calendar time. I love getting new pointers kids are excited to be teachers with!
Here's another resource you can use for calendar time to study numbers or just a fun themed pocket chart in general. This is a cute blue Superhero 7 Pocket Chart with the cityscape at the bottom.
There's also this long, red Superhero 10 Pocket File Storage Chart. I have a chart really similar to this that I use to store copies for each subject. I paperclip sets for each day and put them in the folder for that subject. Anything that helps me be more organized, I appreciate.
Speaking of organization, I love labeling things! These Superhero Name Tags / Labels are so cute for labeling cubbies or buckets of supplies or anything.
Here is another fun name tag option for the superhero students!
You can also put student names on these library pockets too. I don't use these but I've seen other people use them in cute ways.
So I'm obsessed with these pillows – how cute are these?! Love this POP! Pillow perfect for throwing in your reading area.
There's more but these 2 were my favorite. You can find the Zoom! pillow here.

If you send out postcards to your new students before school starts (I totally recommend doing that by the way – it makes them feel excited or squelch nerves and starts building that rapport right away), then these Welcome to Our Super Class postcards are perfect to introduce your theme.

It also helps students feel part of the classroom community to see their names around the classroom as well, as their birthdays, on Meet the Teacher or Open House nights. I recommend having the birthdays from your class list already written on the Superhero Birthday Chart for those nights and add kids who aren't on it on the spot if you have any new class list members show up. This is one I definitely recommend laminating and using a dry erase marker so you can edit easily.
Another easy way to make them feel welcome is… well, a Welcome Banner 🙂
There are a ton of cute superhero bulletin board sets and ideas out there so I'll just share a few since this is SO cute! Have you seen awnings on bulletin boards yet? It looks so cool – definitely measure your board to make sure it fits lengthwise but man oh man, I love this Superhero Awning – so awesome!
This cityscape bulletin board border goes really well with it!
Here's another really cute superhero bulletin board border I love.
Okay, that's a lot! I hope you've gotten a lot of fun decor options and ideas for your classroom. Check out my big list of classroom themes if you're still deciding on a theme. I'm working on more posts like this for other themes that I'll link there so keep checking that post 🙂
Hover over this image to find the pin button to save this to Pinterest for later!