Teaching kids how to read is one of the best things in the entire world. Ever. Being the person who opens up that door to them is such an honor and I have found that there are some great literacy tools to help do this. Also, don't forget to use the drop down menus above to check out my book lists where I share my favorite books for a bunch of different themes, holidays, etc. to help kiddos love reading!
Here are some of my favorite reading tools! I provided the links for you to see them directly on Amazon if you want to check them out – some links are affiliate links which means I get commission if you buy from the links, it's no extra cost for you but I just wanted to let you know!
One of my favorite reading tools is magnet letters. You can use them for so many things!
My absolute favorite are these lowercase magnetic alphabet letters from Lakeshore.
They are so much better than any alphabet magnets I've used before because the font is perfectly primary.
Kids love using these to build words and there are so many wonderful activities you can find online to use them with. They also have them in uppercase magnetic alphabet letters!
My personal favorite – JUMBO magnetic alphabet letters! These are awesome for building words on the whiteboard together since they're nice and big!
I just adore all of these sets because of how great the font is and they're good quality in my opinion.
I often get asked how I store my alphabet letters. I use a plastic storage case like this for the small alphabet magnets and put little dot stickers from the dollar store that I write A-B, C-D, etc. on and place on the front wall of that compartment so you know exactly where to find each letter and where to put it back.
Another alphabet set I love with a perfectly primary font are these alphabet stamps!
I am seriously obsessed with these. Kids love stamping and I love that these stamps are easy to use and have the letters represented in the way we want students to learn them.
They also come in an uppercase alphabet stamps set so you can teach the importance of capitalizing names, do uppercase vs. lowercase stamping sorts or have them match them up by stamping them together, etc. – the possibilities for these stamps are endless, really! Give kids a blank piece of paper and some of the word cards I show below and they'll go on a stamping spree! 🙂
So I already showed my MAGNETIC pocket chart in my Classroom Must Haves list but I really feel like it's the best thing since pre-sharpened pencils 😉 so I am going to show it to you again!
I absolutely love this pocket chart! I will never buy a non-magnetic one again. It's so great to be able to just grab it from the pocket chart center and place it on the white board without fumbling with magnet clips or whatever and have it falling during your lesson.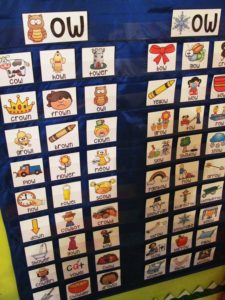 You can use a pocket chart center for everything literacy from writing to reading to phonics. I use mine for weekly phonics centers to practice the new phonics sound we're learning each week. I love this Phonics Pocket Chart Centers bundle on TpT that has picture word cards, letters to build each word next to the picture, and sorting mats for all the phonics sounds – it's a ton of materials!
There are links in that bundle to the individual sets for each phonics sound too so you can just grab them for the sound(s) you need or if you want to try it with your kids first.
I also like having white sentence strips for the pocket chart center so I can quickly make my own activities when I want to.
They have the writing lines on them so you can model proper writing. Sometimes I write words or phrases on them and cut them to that size to label things in the classroom.
I usually use white but you can also get sentence strips in fun colors too!
A reading tool I love are finger rings with wiggle eyes! They really get kids enjoying reading – they put a ring on their pointer finger and point to the word they're reading so it's great to teach them one-to-one correspondence with words while reading.
Another thing kids love is to race! Make something a race, even a phonics reader they've read 10 times, and it's all of a sudden a fun game. I recommend only reading racing in their leveled small groups so they are with other readers at their level… OR have them partner up with another student at their level, give the pair a timer, and have them time each other by flipping over 1 minute sandtimers and reading the text as fast as they can – kids love it!! Especially if you have them mark where they stopped then try to beat themselves the second time or third time (they almost always do!)
I also love these digital timers for timing reading. They're super simple to use and count the minutes and seconds either up or down. 🙂 They're great for assessing students too!
Another great reading strategy to use with reading passages is highlighting words with the sound they're focusing on. I really love these reading passages for short vowel word families and these for long vowel word families and there are a lot of other kinds too. For example, if you're reading the -et passages, kids would highlight "pet," "net," "vet," etc.
I really love the quality and colors of Sharpie highlighters like these.
Since they come in all different colors, you could also use them for grammar lessons. For example, when teaching nouns, have them highlight people green, places yellow, things blue. If you're studying parts of speech, have students color nouns blue, adjectives green… so many possibilities with highlighters!

Another thing kids love using is Playdoh like this huge pack of 36 cans of Playdoh!
You can use Playdoh for SO many different lessons. Have them make letters, make the sight words you're learning, or stamp the letters with alphabet stampers like these.
You can have them stamp their sight words or CVC words or their name or whatever words you want them to spell! It also comes with number ones which are super fun for math – there are also a ton of Playdoh ideas for math.
Don't forget to check out my Math Must Haves list too if you haven't already!
I also love alphabet cookie cutters for working with the Playdoh above! I wish I could find some lowercase ones too – if any one ever comes across them, please let me know!
Okay, one more thing!! Phonics dominoes! They're really cool! Check out the short vowel phonics dominoes first to see if your kids like them.
If your kids love them, do the long vowels phonics dominoes next to practice long vowels and vowel pairs!
If they love those too, they have them for blends and digraphs too!
Okay so that does it for my list of reading tools I wanted to share! I have so many more things I love that I'd love to share though! Check out these other lists of things I love:
Best Back to School Read Alouds (and I have a ton of other book lists – use the drop down boxes at the top of this page to find them!)
Best Books by Behavior (great for the first few weeks of school or if you're having an issue with a specific behavior like tattling, blurting, lying, etc.)
Flexible Seating Classroom Ideas and Seating Options
Hover over this image to find the pin button to save this to Pinterest for later!
I'd love to hear from you in the comments! Do you love these too? What are your classroom must haves?? Feel free to share this using the buttons below!